Full stop. BREWING is not a brewery and we do not sell beer. We are about brewing up stories about people, places, and things in the Craft Beer industry.  Our total mission is to bring interesting facts, stories and information to you that will be interesting and add fun to drinking Craft Beer. Yeah we do some homebrewing but we really like to hear stories from craft brewers at all levels. If you have a story that would be interesting give us the suggestion. But first the person must  be a nice.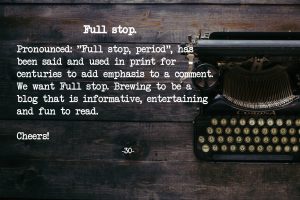 Click on image to enlarge.
Change Isn't Easy in the Craft Beer Category-But Change Means Growth in a Great Industry!

Change is everywhere in Craft Beer-styles, flavors, new varietal ingredients, and even new and improved.
No matter how great a beer is, it will not last without consistency in taste and quality.
Is the craft beer category positioned for a shakeout? The effects of 2-year shutdowns are still present to some degree. This category is still re-inventing much of their business models. For example: curbside delivery, taprooms re-opened, and new style beers. Other changes less top of mind: changes in consumer preferences; changes in consumer beer tastes; cost of goods; balance sheets: and supply chain.
In my conversations with people associated with the craft beer category (bankers, consultants, various size brewers, ag producers/maltsters, and marketers), the prognosis for craft beer is positive. We are at a place where craft brewery owners have weathered a problematic storm, for the most part. Yet, with some pain.
Shakeout may be overly dramatic, but changes in the overall beer sector are happening at a fast pace. For example, new products/styles, CBD beers, consumer preferences, and marketing (packaging and technology) are just a few of the active changes.  Another obvious change is the emphasis of re-vitalizing brewpub and taproom sales that went from being a large component of craft beer sales to virtually non-existent through 2021. These two revenue sources alone represented more than 60% of craft breweries sales. Ultimately, this lost revenue has to be addressed.
Robert Shafloe, writing in "Bizfluent", feels that craft beer is still in its infancy because of new approaches to beer recipes because of new ingredients and an updated look at distribution.
Craft beer leaders are still formulating new approaches to their markets and growth plans. The following are thoughts about the current state-of-affairs from people in the craft beer category.
 "Demand for craft beer is being stimulated by a shift in consumer preferences toward variety, novelty and higher-end brands," says Jessica Jacobsen, Beverage Industry, March 21, 2022.
Brian Souzzi, writing in Yahoo Finance says, "Going premium as a trend continues to grow and is doing well. More premium beers continue to move. It is almost an unstoppable trend I think in the category. A lot of headroom to continue in premium space."
Sam Calagione, founder of Dogfish Head describes the current state of craft beer as vibrant, accessible and tumultuous. "Five years ago, craft beer was still a niche community," he adds. "Now it's moved into mainstream acceptance. It's a trend, not a fad. But we've hit a moment where beer overall is flat."
Clay Robinson of Sun King Brewing says, "If craft is to go to the next level, and become the consumer's favored flavor of beer, then we, larger breweries, have to get behind two-to-three beers each, and brand to a larger volume. Otherwise, the category becomes too helter-skelter, and confuse the audience."
"The stay-at-home (and beer-at-home) economy is here to stay. Beer consumers are now comfortable with contactless ordering online, grabbing beer-to-go, curbside pickups, or having it delivered to their door. Brewers have adapted," commented Todd Alstrom, Beer Advocate.
In canvassing a range of medium to small size craft brewers, the following are some of their random thoughts about the near future. Not all changes are going to be earth shaking, but any change has a risk.
Socioeconomic-There is some research that shows quality craft beer has a diminished impact on consumers' willingness to absorb the higher costs of craft beers. Craft beer demand seems to be inelastic, at least currently.
Environmental Impacts-Drought, diseases, and weather trends have impacted raw materials availability and pricing. As an aside, hops and barley growers have been involved in conducting research on more disease and drought tolerant varietals.
Consumer Preference/Market Trends-This element of change encompasses flavored beers, low/non-alcohol beer, IPA styles, and seltzers. Low alcohol or non-alcohol beer is becoming a significant trend due to health, public safety, and lifestyle changes.
Technology-On-line sales have made a significant impact on the industry. In the taproom, contactless ordering in taprooms and brewpubs are becoming more prevalent with QR codes.
Supply Chain-Issues arising from political dictates, fuel costs, and labor supply will probably be with the industry for the near term.
Laws and Regulation-In the case of Covid, laws/regulations were capricious. For example, the mandated closing of taprooms and brewpubs had a negative impact on breweries.
Market Trends-We see trends manifested daily in new craft beers. A good example can be seen in hard seltzer products, flavored beers (such as Peanut Butter Stout and fruit fusion), and CBD beers.
Internal Financials-The condition of a balance sheet will dictate many responses to needed and desired changes by each brewery, especially in expanded distribution objectives. Financials dictate most every aspect of growing a business.
Some observers will draw attention to the declining number of craft beer breweries. However according to data from Brewers Association, 2021 vs 2020 there was actually a 2.6% increase in craft breweries. The total in 2022 stands at about 9,200. In 2021, while the beer sector/industry overall increased production volume by 1%, the craft beer category production increased by 7.6%. (Source: Brewers Association) "In a year (2021) when draught sales were down more than 40%, small brewers found a new way to keep their businesses running," said Dr. Bart Watson, Chief Economist-Brewers Association. So, do not underestimate the tenacity of the craft beer category.
Beer has been in the world for thousands of years, commercial brewing operations have been in the U.S. since 1632, and today the largest brewery company is AB InBev. That said, let's agree that beer is here to stay. The question now is: What possible changes will craft beer implement to compete with macro brewers and stay relevant? The macro beer producers have entered the craft beer category through acquisitions. 
Being complacent about implementing change is not a smart move–the consumer does have a vote. Schlitz is a prime example of relying on the power of size when deciding to make a change. In beer, there is no such thing as "being too large to fail". The largest brewery of the mid 1970's, the one that made Milwaukee famous, was Schlitz and it had been a powerhouse for 100 years (1850-1976) before it vanished. Most historians attribute Schlitz's demise to poor management decisions in making changes to their brand, as defined by taste and quality. The changes they made resulted in a new taste in the brand and consumers perceived that there was a cut in quality also; they revolted. Schlitz changed and then realized their decisions lead to its own demise, and it was quick.
Kevin McGee writing in Rolling Stone states that he thinks the "craft beer" moniker is a misnomer; beer is beer. I disagree. To that point, Brewers Association is committed to keeping the value of innovation, and the premium nature of craft beer front and center in the beer consumer's mind. Without a craft beer category, we would have significantly less innovation by way of taste, styles and processes. Craft beer as a category may need a stronger emphasis on its "value proposition" before the consumer starts viewing craft beer as being "just another beer".
Craft beer is constantly addressing changes in consumer taste, styles preferences, supply chain hiccups, packaging options, brewing techniques, ownership models, etc. Nonetheless, craft beer will be with us and will probably thrive if brewers manage all the moving parts of brewing and keep a consistent product. Consistency is one of the main reasons AB owns their own barley production, so it must be important.
Here are some of my thoughts for the short-term.
Now is the time to create an improved normalcy in the craft beer community. The beer consumer likes things that are traditional and, at the same time, new. There are indications that, craft beer drinkers like the "human interest" side of their beers and understanding the ingredients. Some brands today are drawing a lot on the history of their creations. For example, Hanabi Lager in Napa is a new premium beer company in Napa that produces classic and historically accurate craft beers.
Craft beer brewers, as defined by Brewers Association, do run the gambit of production size and distribution. Therefore, smaller producers will probably focus on the local community and building a following based on a list of styles that garner loyalty. Too many shiny objects can be confusing to a local market, per Kevin McGee of Rolling Stone. Don't compete with brewers who have deep pockets and have a higher tolerance toward risk/failures.
Sours and non/low alcohol craft beers are growing in popularity. Non or low-alcohol beer is gaining acceptance with health-conscious younger demographic consumers. Sours' (beer type) tend to be appreciated mostly by people who are fans of varietal wine and mixed drinks.
Hop forward beers are still popular with consumers. There are more offerings of Hazy IPAs, too. Hazy, like the pure IPA, is here to stay. Haley Jones of Stone Brewing says, "Hazy IPAs are like a beautiful union of solid and liquid. Solid matter from beer ingredients (we're talking microscopic compounds) makes up the haze in an IPA, and it's doing a lot more than just looking cloudy. It's grown from a niche interest."
Because of a general gravitation toward sustainability and fresh ingredients, fresh hops and barley varietals could start being more front-and-center as part of building a brand's image. The malts component is a driver behind a 'classic, traditional and original' taste in lagers. Lagers are not going "bye bye". What goes around comes back around! People do like the classic taste and aromas of malt forward lagers.
The most consumed season for beer is summer. As reported in some craft beer publications, the craft brewer will start experimenting with the Rose' style beer as a seasonal or holiday beer; pink and sweet. In some conversations with brewers, the Rose' approach in craft beer was also mentioned as possible new style.
The wine folks have been experimenting with CBD infusion for years. Craft beer is in that space also. CBD infused beer is typically a low-calorie, non-alcoholic beer brewed with CBD. Basically, CBD beer will not get you high or drunk. In 2017 Lagunitas introduce a CBD product.
Craft beer producers know the taproom is not just about revenue. Taprooms are a great place for getting brand feedback and trials. Further, taprooms create community and build awareness for a brand. The most overlooked feature of a taproom—building brand loyalty. And it is a great place to communicate regularly with the consumer.
There will be more use of technology in distribution. QR codes can offer advantages that go well beyond ordering a beer in a taproom. DTC (direct to consumer) delivery options can be part of a premium product approach to consumers.
Can't end this kind of diatribe without a summary, mine follows.
Craft brewers, of which approximately 80% produce 100,000 barrels of beer or less annually, should focus on building a brand, i.e. define the brand they want. That brand will likely be of a local or regional focus. Branding options could focus on on-line, local promotions, loyalty programs, promotions, retail store tastings, build distribution, etc.
Focus on a few signature styles that emphasize consistency, constant availability, sustainability and freshness. Focus on the differentiators of craft beer vs. macro mass produced beer. Maybe look at historic taste as in a malt forward lager. Hazy IPAs seem to be gaining.
Offer a low-alcohol brand.
Keep the website current and relevant to trends such as on-line sales and delivery (DTC).
Utilize taproom to build community, test product concepts, and collect feedback and data collection.
I have tried not to be esoteric in this discussion, after all, the consumer ultimately dictates what works in a given market.
Just some thoughts to consider and note changes that happen at the local brewery level and the Craft Beer category. Cheers!